Friday-Night Blog: Adam And Joe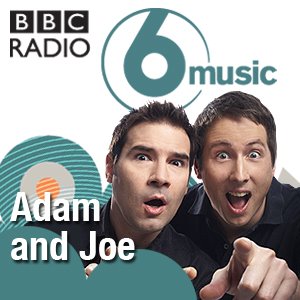 Ladies and gentlemen, I'm here tonight to talk to you about something very close to my heart. Over the past few months, I've been privileged to have listened to some of the funniest radio ever broadcast in the history of the world. Ever. And some of it is just silly.
Yes, I'm talking to you about
Adam And Joe on BBC 6Music
. You may remember Adam and Joe from their late-night Channel 4 TV show, or from those soap powder commercials they did a few years back, but don't hold that against them. You see, for the last few years, Adam "Ad" Buxton and Joe "Joe" Cornish have been doing a Saturday morning show on the digital station from 9am to midday.
But I've never heard it.
I don't have a DAB radio. I usually work on a Saturday morning. And a third reason which I can't think of at the moment, but I felt I needed one to make this work. No, I just listen to their fantastic podcast, which is available through the
BBC6 Music
website, or through
iTunes
.
The weekly podcast includes all the tasty nuggets from their radio show, such as their ground-breakingly original feature, "Text the Nation", in which our heroes set a topic and get their loyal listeners to text in ("But I'm using e-mail, is that a problem?"). Recent themes have included bad interviews or auditions, public pretending (strange things you do to cover up embarrassing events) and favourite cakes. No wait, that wasn't exactly one.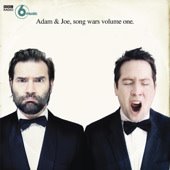 And then there's "Song Wars" ("the war of the songs, a couple of tunes by a couple of prongs"). Adam and Joe construct songs based on a theme and then leave it to the listeners to decide which one is the best. The best ones have even made it onto an album, available on iTunes.
Adam and Joe are just plain funny, the sort of people that you would want to listen to on a Saturday morning. Or a Tuesday evening. Or a Friday lunchtime. Whenever you want to listen to their podcast. Or you could Listen Again to the whole show through the website or the BBC iPlayer.
Or you could become a member of Black Squadron, the elite team of listeners who listen to the show at 9am on a Saturday morning. You'd also get to hear the music they play, which I'm lead to believe is quite good (as you'd expect from a station called 6Music...) I don't know, I only listen to the music-free podcast.
And then you will know about the power of Adam and Joe. The idiot-holes. Thank you for your attention, and good night.
"Stephen!"
Labels: Adam and Joe, Comedy, Friday-Night Blog, Radio