Review: "Wild Boy: My Life in Duran Duran" - Andy Taylor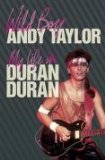 Duran Duran were probably the first band that I really loved - not just in a "oh, they make good songs" kind of way, but in a "wow, they're really great" kind of way. I loved John Taylor's funky bass playing (just listen to some of those bass lines), Nick Rhodes' cool and funky synth lines, Roger Taylor's power drumming ("Wild Boys"), and Simon Le Bon's perfect pop voice (and lyrics, which as every '80s pop band knew, shouldn't be easily understood, and if you could hear them, they
shouldn't make sense
) but I never really got Andy Taylor's contribution to the band. Not that the guitar parts weren't important; his acoustic work on tracks like "Save A Prayer" is fantastic, but he always seemed to me the outsider, the "rock" star who had wandered into this "pop" band, and would prefer to not be wearing the make-up and tea-towel clothes.
Andy's book,
Wild Boy: My Life in Duran Duran
confirms much of this feeling. He was the last member to be recruited to the band, having been gigging with various rock bands around Europe, and was one of the first to leave (and the only member to leave twice!) when things went a bit wonky. His story is one of antagonism with various members of the band (and management and record company) at one time or another, but what also comes across is his attempts at trying to keep everything together when the excesses of being one of the biggest bands of the '80s were taking their toll.
Andy tells his story with a great sense of humour and realism. He doesn't shy away from the problems he had with drink and drugs, but neither does he gloss over them, or even moralize about them. He talks frankly about the problems within the band and reveals why he had to leave the band in the mid-eighties, and then again after the reunion.
What has struck me is how much I now appreciate his contribution to one of my favourite bands. He reveals that his favourite Duran song is "The Reflex", (the same as mine) and also reveals the struggle the band had to get the Nile Rogers remix of the song released by the record company in the USA. The problem? It apparently sounded "too black"! The band (especially Andy) fought to get it released, and it became their biggest single of all, showing that record companies don't always know what's best.
This is the first official autobiography of Duran Duran, and as such it obviously has its shortcomings, as the band still carried on without Andy during the second half of the eighties and into the nineties. Andy understandably glosses over this time (as the book is subtitled "My Life in Duran Duran"), but he also doesn't recognize the fact that the band did quite well without him (especially the
Notorious
and
Duran Duran - The Wedding Album
albums.
Hopefully, this book will drive one of the other band members to give their side of the story. Nick Rhodes would be ideal, as he's the only member of the band to have survived from their earliest Rum Runner days all the way through to the present day. Until then we'll just have to make do with Andy Taylor's, which isn't a bad thing after all. (You could also try Steve Malins' unauthorised biography
Notorious
, which is also quite entertaining.)
Labels: Andy Taylor, Books, Duran Duran, Music, Review