Friday-Night Blog: Comic Relief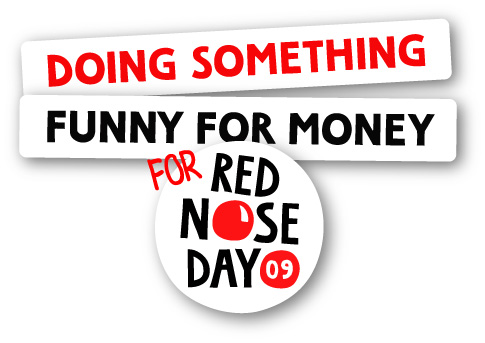 So, it's Comic Relief night tonight, so make sure you all go and give lots of money. Bizarrely, this is the first year that I actually have donated a decent sum of money (when I think I really can't afford it, but hey...) due to that "Roly-Poly DJ" heaving himself up a mountain... Curse the power of suggestion, and well done to Chris and everyone for making it up Kilimanjaro!
Comic Relief day always comes tinged with a bit of sadness for me, as it was on Comic Relief day in 2001 that I found out my sister was going to die. (Sorry if that just derailed you there...) I was sitting watching the stuff they were doing on CBBC in the afternoon, when the phone rang. It was my step-father, telling me that my sister Fiona's illness was actually terminal cancer, and that I needed to get up to Manchester straight away. He'd gone up there with my Mum the previous day to see how she was as they thought she'd got some liver infection or something. I nearly went with them that day, but hadn't for some unknown reason - work or something, or maybe telling myself it was only a bug, because serious illnesses don't just happen like that, do they?
Anyway, the phone call was like a sledgehammer to my stomach. I remember sitting crouched over the seat of the armchair, trying to comprehend, to try and talk this around - surely they could do a liver transplant or some such procedure? But no, the cancer had grown inexorably within her and had spread far beyond the liver. I don't remember much of the rest of the day.
My wife drove me up to Manchester early the next day, with me in floods of tears half the time. It was so surreal to get to the hospital and see all my family and my sister's family there. By the time we got there, Fiona was in a coma, pumped full of painkillers and drugs and being fanned to try to control the incredible heat being generated by her body. I spoke to her - I don't know if she heard, but I had to talk to her, to try and promise her things I would do in her memory.
We left a while later to try to find somewhere to stay, and while watching a John Wayne film in a hotel room, we got the phone call from her husband John to say Fiona had died. I believe that she held on long enough for me and her friends to get there, so she knew she could go in peace.
So that's why Comic Relief is a bit of a double-edged sword for me, and not just because of some of the "comedy" they put up for our entertainment...! So, go and give them money, or give some to Cancer Research if you prefer, because in my mind it's not fair that a healthy 31-year old woman who didn't smoke, rarely drank and had a six-month old son should die of cancer, when some hard-drinking, chain-smokers live into their nineties.
I haven't exactly done something funny for money there, have I?
'In support of Comic Relief, registered charity 326568 (England/Wales); SC039730 (Scotland)'
Labels: Cancer, Comic Relief, Friday-Night Blog